BOEKEN
'Waar de trein bleef stille staan', een essay over DE TREIN DER TRAAGHEID EN DE HEILSGELIEFDE van JOHAN  DAISNE, 2014
'Bone' with CD Steve Lacy solo@afkikker  edit Rita De Vuyst 33 € plus shipping and 5% Paypal, 2002. CD mother goose
solo@afkikker is the only CD of Lacy that could be produced together with a book. label Naked Music
Blossoms, an album with 5 CD's and 1 DVD, 6 concerts from the farewell concerts of Lacy to Europe, label Naked Music, 120 €
'Lumen'  pdf lumen Edit Rita De Vuyst, met bijdrage van Walter Verraes en Rik Pinxten, 20 €
'De Tijd in de Diepte', gedichten Rita De Vuyst
'The Word is Coming In', poetry to Steve Lacy, Rita De Vuyst, 20€
 'The Quantum Jump', Rita De Vuyst, interpretatie van de theorie van David Bohm met CD van Christian Mendoza's trio live in Afkikker 20 €
'Wie Betaalt de Muze', Rita De Vuyst,  over synchroniciteit en het informion, 20€
'Hard van Steen', over het belang van het Hooghuys in de Middeleeuwen, met foto's van onze opgravingen en vondsten; waaronder een mortier, veel botten en scherven.
FILM DE TREIN DER TRAAGHEID naar een novelle van Johan Daisne, nog niet in productie is nu afgewerkt,
Regisseur Ivo Fisher, script en onderzoek Rita De Vuyst  muziek van Steve Lacy (saxofoon, composities), Mikhail Bezverkni (viool), René De Vuyst (zang)
CD Blossoms, farewell music of Steve Lacy to Europe in Belgium, Ghent, Antwerp, Brussels, 15 €
CD 'Gravensteen 1971′ free jazz in Gravensteen Steve Lacy Quintet 15€
CD Steve Lacy live in Afkikker with book BONE, Mother Goose solo @ afkikker 33 €
CD 'Homage to Steve Lacy' played by Michail Bezverhny violin, new published  'P' study book, solo and duo 15€
CD 'René De Vuyst Zingt Liederen Thuis'  10€
CD René De Vuyst 'Jongens van 18′ 10€
CD René De Vuyst 'De Nieuwsberichten van 1939′ 10€
CD Homage to Steve Lacy studybook 'P' played by violinist Mikhail Bezverkhni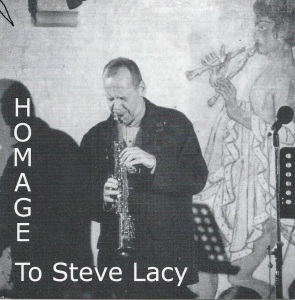 Al deze werken zijn uitgegeven met Sabam en ISBN nummer en zijn te koop in Afkikker/ Het Hooghuys of via internet. Betalen is mogelijk met paypal, bank of contant. info@afkikker.be 0032475313997.label 'Naked Music", uitgeverij Afkikker. 
Published by Naked Music, Everything can be paid with PayPal via info@afkikker.be, or via bankaccount.
More info about  Steve Lacy read his biography under Projects.
Steve Lacy changed my life and gave me insight into the whole Rita De Vuyst
Farewell program of Steve Lacy to Europe in Belgium