15.01.2023
Here to buy cd Artur Rozek with Anna Mikolo, 15 euro THE BEST BARITONE living in Ghent ans singing in Afkikker regularly with different duo's from Europe, also engaged in the project 'Under the spell of King Arthur' a production of Afkikker.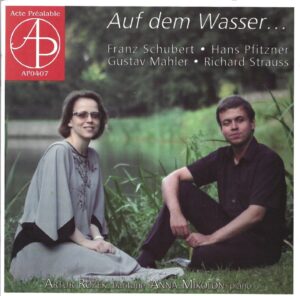 BOEKEN
Publicaties Afkikker/Klimop              
Boeken Books
Lacy made the poet out of me! My poetry was a directly response to his music which brought me heaven!!
Finally just before his death he gave me green light to publish his solo concert in Afkikker in a book Bone which I wrote together with Oliver Braet.  The cd called Mother Goose solo@ afkikker.  By the sequence of the songs to pointed me as a mother of his oeuvre. This resonsability I took and still I'm taken by the publication of a new book: Mother Goose Sets the Tune and by introduc!ng the baritone singer Artur Rozek to the oeuvre of Lacy.
Bone with CD Mother Goose solo@afkikker  interview Olivier Braet  bio Fernand Tanghe
Lumen   pdf lumen Beckett Makes Sense! Read the Code! Met bijdrage van Walter Verraes en Rik Pinxten
De Tijd in de Diepte, gedichten
The Word is Coming In, poetry
The Quantum Jump rond de theorie van David Bohm
Wie Betaalt de Muze/ Who is paying the Muse
Hard van Steen rond het Hooghuys/Afkikker
Waar de Trein bleef stille staan, interpretatie van De Trein der Traagheid, een novelle van Johan Daisne
Mikhail Bezverkhni een overzicht
Experiment and Experience &bout the oeuvre of Steve Lacy
Poetry is Word in Action, poetry
The Book of Chaos, about the poetry we did with Olga Mentchik
Film: De Trein der Traagheid, docudrama, Rita De Vuyst script, onderzoek en presentatie, Ivo Fisher, regie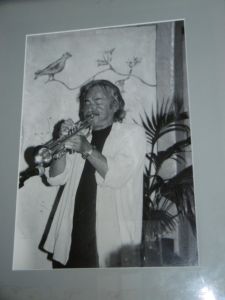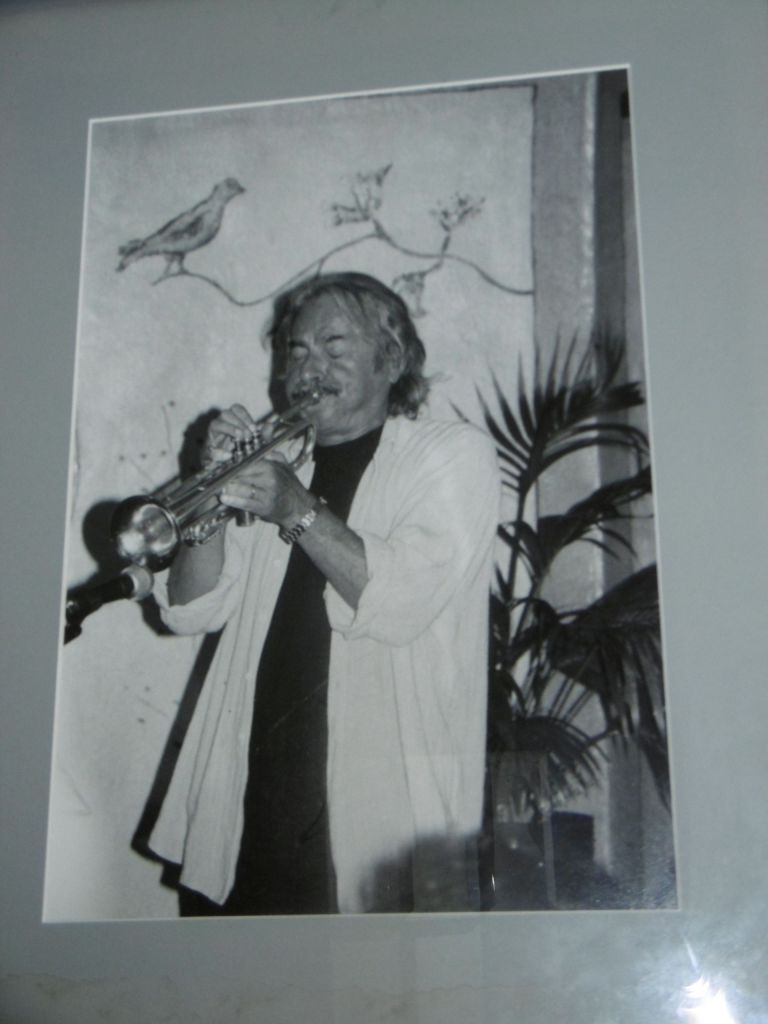 Naked Music the label of Afkikker is the producer of Lacy's farewell concerts to Europe in Belgium. As no one else had any interest in organizing these concerts, Afkikker orderded 2 of them and produced the whole album, no one else had interest as the production was expensive and the saling quasi nihil. For the archive they are a treasure.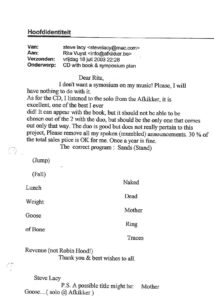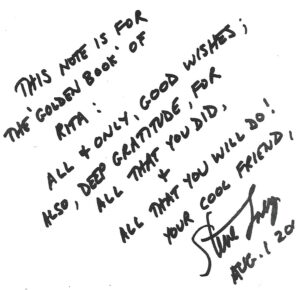 CD's and DVD's from Steve Lacy to order via Afkikker Ghent Belgium:
CD Blossoms, farewell music of Steve Lacy to Europe in Belgium, Ghent, Antwerp, Brusse
Album  farewell concerts of Lacy to Europe: 5 Cd's of 5 concerts plus 1 DVD on Lacy's birthday with dancer Shiro Daimon, this DVD is recorded by the public.
CD Gravensteen 1971 concert in Gravensteen Gent, Steve Lacy Quintet, free period and very important, it was the first time Lacy played outside Paris with his group in an international Free Jazz Festival.
CD Homage to Steve Lacy played by Michail Bezverhny violin solo and duo. The compositions are Lacy's studybook 'P', as therre was 'H'
CD René De Vuyst Zingt Liederen Thuis, songs of my father.
CD René De Vuyst Jongens van 18
CD René De Vuyst De Nieuwsberichten van 1939
CD duo Steve Lacy en Evan Parker, recorded by the public but important as studymaterial. It was a very high valid concert which I organized in the chapel in Ghent, close to Afkikker
Cd duo Steve Lacy en Irene Aebi, from album Blossoms
CD duo Steve Lacy en Joëlle Léandre, from album Blossoms
CD duo Steve Lacy en Mikhail Bezverkhni, from album Blossoms
CD duo Steve Lacy en Frederic Rzewski, from album Blossoms
CD Steve Lacy Sextet with Mal Waldron and Enrico Rava
DVD Steve Lacy and Irene Aebi in Afkikker 1999
'Bone' with CD Steve Lacy solo@afkikker  edit Rita De Vuyst en Olivier Praet 30 € plus shipping  2002. CD mother goose solo@afkikker, Steve Lacy solo, with interview and about the concert 1971 and some poetry.
BOOKS
'Lumen'  pdf lumen Edit Rita De Vuyst, met bijdrage van Walter Verraes en Rik Pinxten, 15 €
'De Tijd in de Diepte', gedichten Rita De Vuyst
'The Word is Coming In', poetry to Steve Lacy, Rita De Vuyst, 20€
 'The Quantum Jump', Rita De Vuyst, interpretatie van de theorie van David Bohm met CD van Christian Mendoza's trio live in Afkikker 20 €
'Wie Betaalt de Muze', Rita De Vuyst,  over synchroniciteit en het informion, 20€
'Hard van Steen', over het belang van het Hooghuys in de Middeleeuwen, met foto's van onze opgravingen en vondsten; waaronder een mortier, veel botten en scherven. Afkikker was het Gemeentehuis van het sint-Pietersdorp in de Middeleeuwen, de zuil in de kelder is van de 13de eeuw, dezelfde als deze van het Stadhuis van Gent.
FILM DE TREIN DER TRAAGHEID naar een novelle van Johan Daisne, dvd kan samen met het boek gekocht worden.
Regisseur Ivo Fisher,  onderzoek Rita De Vuyst  muziek van Steve Lacy (saxofoon, composities), Mikhail Bezverkni (viool), René De Vuyst (zang)
Boek 'Waar de trein bleef stille staan', een essay over DE TREIN DER TRAAGHEID EN DE HEILSGELIEFDE van JOHAN  DAISNE, onderzoek en samenstelling Rita De Vuyst 2014
Al deze werken zijn uitgegeven met Sabam en ISBN nummer en zijn te koop in Afkikker/ Het Hooghuys of via internet. Betalen is mogelijk met paypal, bank of contant. info@afkikker.be 0032475313997.label 'Naked Music", uitgeverij Afkikker. 
Published by Naked Music, Everything can be paid with PayPal via info@afkikker.be, or via bankaccount.
Steve Lacy changed my life and gave me insight into the whole
Rita De Vuyst
Het kwaad is uit de kruik gebroken
Koude oorlogen staan op koken
Verschroeide aarde
Het vuur wordt aangewakkerd door de slechte gedachte
Psychotische geesten breken
Stuk voor stuk gebouwen af
Met ijzeren tanden
Wie niet vluchten kan wordt de martelgang geboden
Genitaliën ingekort – de sporen verbrand
De lammetjes op de zonnebloemenweide ruiken  buskruit
Omsingeld door rookpluimen graven ze zich in
De zachte dood verkiezend
Amen en uit hier breekt
Het verhaal van de menselijke beschaving abrupt af
Een punt achter een schuchter zoeken naar geluk
Dat slechts uitverkorenen konden beleven
Als een schaduwspel
Het kwaad is uit de kruik gebroken
De ganse aarde besmet
Er vliegen drones
Er dansen robots met humane neuronen
Geprogrammeerd naar de vijand toe
Een kinderschoen zit in de assen vast
Een moeder zoekt haar oudste zoon
Tevergeefs tussen de puinen aan het front
De aarde beeft
Temperaturen stijgen
Een verbrandingsoven van lijken
Er is geen troost
Capituleren….of maken we een eigen front
Een samenzwering van goede gedachten
Zou dit de mensheid kunnen helpen
Met de erfenis die onze voorouders hebben achtergelaten
Rita De Vuyst